What's in our September 2018 issue: Notes from the Field: Kenya Program Coordinator Nereah Obura; Meet, Greet, Eat and Shop Into Africa; Volunteer Cathy Doerr's Humanitarian Philosophy Runs in the Family; Ready for Your Next Adventure?; November P4P Service Trip to Kenya
"A good leader inspires people to have confidence in the leader. A great leader inspires people to have confidence in themselves." ~Eleanor Roosevelt
Nereah Obura, Growing Hope in Kenya
Notes from the Field By Linda Hagen Miller, Newsletter Editor
Dear P4P Friend,
Notes from the Field is usually devoted to activity reports written by Nereah Obura, our woman-on-the-ground in Kenya, but this month, we'd like to tell you about Nereah.
P4P hired Nereah a year ago to be facilitator and Program Coordinator in Kopanga/Giribe. We took a chance, hiring a woman in a male-dominated society.
Overseeing the progress of our programs meant she would need to earn the respect of local leaders, educators and villagers, most of whom are men. She would travel from village to village on her own. She would spend days at a time in Kopanga/Giribe, separated from her husband and two small daughters. On weekends, she would travel home to spend time with them. She would coordinate P4P's service trips in Kenya, and she would be expected to provide P4P administration with thorough and frequent written reports.
We could not have made a better choice. Nereah is a picture of efficiency, grace and dignity, speaking quietly but with authority and resolve. Committed to the well-being of fellow Kenyans, Nereah dedicates long hours, many miles and much tenacity to her P4P duties.
Nereah is at the forefront of an emerging trend of female empowerment in Kenya. Most Kenyan women marry by age 20 and in short time, have an average of four children. Even though 62% of Kenyan women are in the labor force, the majority work as subsistence farmers or hold menial jobs.
"Not many people embrace women leadership, including women themselves," Nereah says. "No one ever believes that you merited your position, in most cases they think that you have a relative in the organization or that you bribed your way up."
Things are changing, however, and Nereah is one example of this trend.
"You see more women in leadership positions," she says. "I recently attended a church leadership forum where we learned that the first delegation in 1994 had less than 10 women. This year, half of the delegation was women. We see more women in elective positions, and we currently have three female governors."
Nereah is catching this bow wave of change and she gives credit to her parents who were dedicated to educating both boys and girls. Her late father, a primary school head teacher, was adamant that she would attend school and was often a benefactor to other family members.
"My mother recalls a time when a total of 17 people were living in our house," Nereah says, "a number of them being relatives that my father supported in one way or the other to go to school."
Nereah lived with her parents until she was in the sixth grade when she moved in with her older brother. With the help of her brother and other siblings, she was able to attend university where she attained a bachelor's degree in economics and sociology from Kenyatta University and a certificate in program monitoring and evaluation from the Kenya Institute of Management. English is her third language.
In 2012, Nereah married Ambrose Orege and they have two daughters, Kayla, four years old, and Krystal, just over one year old. The family lives in Kisumu, 70 miles from Kopanga, and Ambrose works as a program officer at FilmAid International at the Kakuma Refugee Camp in Turkana, Northern Kenya.
Juggling a career and family is a challenge in every society, especially when work requires a husband and wife to live apart.
"Ambrose has always been very supportive of all that I do," Nereah says. "I count myself very lucky to have Ambrose as my husband. Not many men allow their spouses to work far away from home." The couple has hired a nanny to care for the girls and they treasure their weekends together.
"I always pray to God to keep and preserve Kayla and Krystal," she says. "The best Ambrose and I can do as parents is to give them a good education and spiritual guidance to enable them to be the best that they can be."
Operating on the belief that it is vital to empower communities and give people a voice, Nereah hopes to see P4P interlink its various projects for sustainability. One of the main challenges she sees is securing food supplements from the Kenyan government for the Power of Milk children.
"For the last year," she says, "we've not received any Plumpy'nut™ from the government, yet we continue to receive many children in need. They survive thanks to the supplies we receive through P4P from the U.S."
"P4P is doing a great job in this community and is very well known here," Nereah adds. "We have built strong partnerships. It is important for the community to play a part so then they own the projects and our programs have bigger impact."
Meet, Greet, Eat and Shop at Into Africa
October 13, 2018, 5:30 PM, Mirabeau Park Hotel
Meet: Nereah Obura, P4P's Program Coordinator in Kenya and the Auction's keynote speaker. If you read her bio at the beginning of this newsletter, you know you are in for an enlightening experience.
Greet: P4P volunteers, supporters and staff will mingle, educate and try to outbid you on our fabulous auction items. Stop by the various info tables and learn about our education, clean water, economic development and health programs. Check out the Kenyan artifacts and slide show at the travel table and ask how you can have a wild kingdom adventure.
Eat: Kenyan food, thanks to the inventive chefs at the Mirabeau Park Hotel. Sample samosas (puff pastries stuffed with lamb and ginger), kachumbari (a tangy tomato, onion, cilantro, cucumber, chili dish), ugali (white maize porridge) and kuku (lemony chicken stew). If you are not feeling gastronomically adventurous, standard American buffet choices will be available.
More eating: The Dessert Dash will get your entire table involved in bidding on the sweetest treats around.
Shop: Join the bidding frenzy for everything from a deluxe African safari to a Hills Resort getaway, tickets to the Broadway production of The Lion King, a Gonzaga men's basketball package, a handmade African-themed quilt, a Davenport hotel package, original art, unique African handicrafts and jewelry, a catered dinner for you and your seven best friends, a scenic flight in a Cessna, even a chicken coop.
There's still time to purchase tickets! Individual tickets $75; host a table $550.
Click below to order online using PayPal®, a secure payment system, or send a check to Partnering for Progress, P.O. Box 28191, Spokane, WA 99228. For credit card purchased please call (509) 720-8408.
We thank the following Sponsors for their support!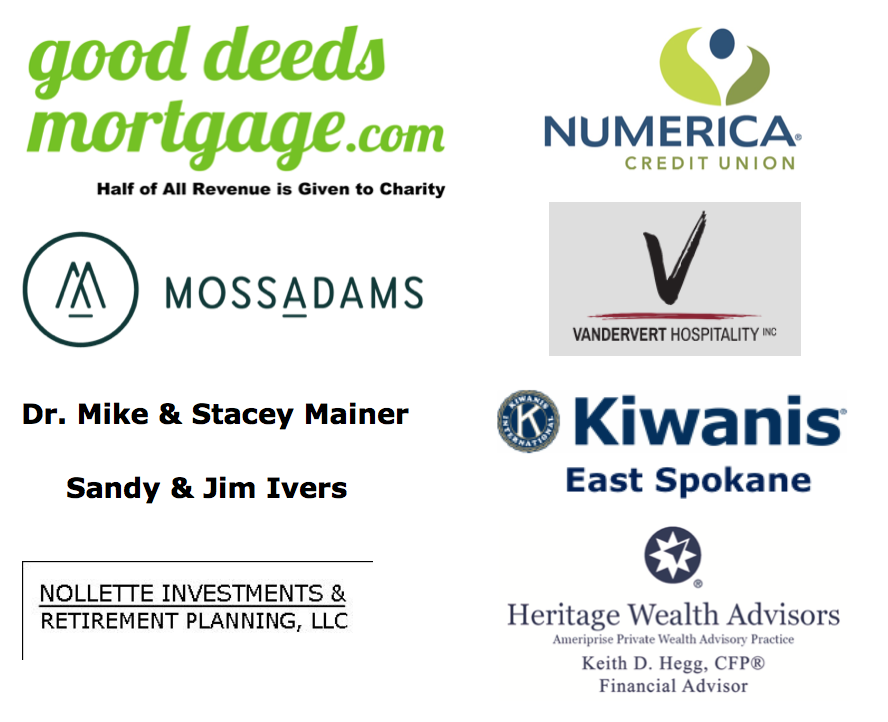 Volunteer Cathy Doerr's Humanitarian Philosophy Runs in the Family
By Renée Sande, Communications Committee
Teach your children well and they will learn that serving others is one of the most profound ways to live their lives.
Cathy Doerr and Mark, her husband of 43 years, seem to have done a thing or two right when they raised their three daughters. Two of them chose to join the Peace Corp, landing them in Malawi and Mali, Africa.
"All of our daughters are very socially and politically conscious because of their non-profit experiences and we are very proud of that fact," Cathy says.
When Cathy and Mark visited their daughters in Africa, they thought they were prepared for the primitiveness of the villages they were visiting. Still, they were a bit surprised.
"Each country was spectacularly different and it was all very eye-opening to us," said Cathy. "It was intriguing to watch our daughters become so involved in the communities and villages in which they lived and worked. It was a tremendous experience."
With a background in teaching, advertising and event planning, and her experience of visiting Africa, Cathy has a lot to share with P4P—not to mention, she can quilt an impressive bit of cloth.
She made this beautiful quilt for the annual P4P auction and also joined the auction committee.
"This is such a worthwhile cause and I love helping," said Cathy.
Now retired, Cathy says being a grandmother to her 18-month-old grandson and 7-month-old granddaughter is "the best."
She and Mark recently opened an Airbnb. "It has been so much fun to meet interesting and diverse guests from all over the world."
Ready for Your Next Adventure?
P4P needs trip leaders for 2019 Kenya service trips. If you're energetic, organized and ready to take on the responsibility of shepherding other team members through their duties in Kopanga/Giribe, you might be just what we are looking for on our next journey.
P4P has created a thorough set of pre-trip documents which help leaders coordinate before the trip and answer travelers' questions. We offer a financial compensation package to help defray trip leader's costs traveling to and from Kenya.
Tentative 2019 dates are February and November. If you're interested in learning more, contact Linda Hagen Miller, lindahagenmiller@gmail.com or fill out an application at www.partneringforprogress.org/volunteer
November P4P Service Trip to Kenya
Trip leaders Gabriella Bullman and Sandy Ivers report that a talented team is in place. They include:
Cameryn Flynn, Health and Transportation Services Coordinator at Spokane Neighborhood Action Partners.

Renee Reedy, community health worker and medical assistant at Community Health Association of Spokane (CHAS).

Claire Phillips, patient services coordinator at the CHAS clinic in the Spokane Valley.

Skye Holm, recent public health graduate and medical school applicant who works as a medical scribe in a pediatric orthopedic clinic at Swedish Medical Center in Seattle.

August Wyssman, certified medical assistant at Spokane Teaching Health Clinic in the Family Medicine Residency.

Dr. Megan Sakamoto-Chun, DO, family medicine resident physician at Spokane Teaching Health Clinic.

Frances Fern Frick, a well-traveled retiree who has been a volunteer firefighter, in-home childcare provider and community volunteer.

Dr. Bryan Stamm, family physician and faculty at the family practice residency in Spokane and associate professor of clinical medicine with the University of Washington School of Medicine, Department of Family Medicine.

Dr. Sarah Sowerwine, family medicine physician at Spokane Family Medicine residency. Sarah is on her second service trip with P4P.

Dr. John Colver, family practice physician at CHAS.
Goals are being finalized but so far, the team has a packed agenda:
Cameryn and Frances will conduct pre-school teacher training.

Volunteers will meet with ministers of health, education, agriculture and water.

Sandy will visit farmers to assess crop production.

Medical providers will work in the local clinics.

August will be applying fluoride varnish to children in local orphanages.

School roofs will be measured to determine the maximum amount of rainfall that can be captured in catchment tanks.

The group will meet with the newly formed advisory committee that is being developed to determine a sustainable revenue-generating project.

Volunteers will meet with scholarship students.
Contact Us

Partnering for Progress
P.O. Box 28191
Spokane, Washington 99228
(509)720-8408
info@partneringforprogress.org