What's in our June 2019 issue: Notes from the Field - Power of Milk; Health Committee Report; Small-Town Girl Makes Big Impact on Lives in Kenya; A Monster Saves Babies; Save Big on Into Africa Auction Tickets; It's Raining Money - Group Night at Spokane Indians Baseball; Thank You Donors!
If we can conquer space, we can conquer childhood hunger. ~ Buzz Aldrin
Notes from the Field
By Nereah Obura, P4P Kenya Program Coordinator
Dear P4P Friend,
When eighteen-month-old baby Daddy Okoth was enrolled in the Power of Milk program last February, he weighed only 14 pounds and was 27 inches long. The average U.S. toddler at that age usually measures in at 24 pounds and 32 inches. Daddy was so severely malnourished he could barely eat and was fed fluids using a spoon and syringe.
His parents are Carolyne Achieng Ochieng and Kennedy Ochieng. Daddy was their fourth child, and a fifth baby was born when he was still an infant. From the discussion I had with the mother, she conceived when Daddy was eight months old and immediately stopped breastfeeding him. From then onwards, Daddy's health was not the same again.
Kennedy's mother, Pamela Akinyi, remembers when a neighbor insisted that Daddy should go to the hospital. First, they went to the Giribe Government Dispensary. A woman at the gate told them that they were wasting their time in seeking care for the child since he was just going to die.
At this point they frantically took him to the Ogada Clinic (where P4P volunteer medical teams work in Kopanga). There they met clinic staff member Monica, who immediately put Daddy on intravenous fluids and gave him a mixture of the nutritional supplement PlumpyNut™. She urged Kennedy to return with Daddy and enroll him into the Power of Milk nutrition program.
Monica said they didn't know if Daddy would survive, but they held onto hope. Daddy and his father, Kennedy, returned to the clinic and enrolled in POM. The father has been very consistent in bringing Daddy to the clinic and ensuring that he is given the supplements. He makes sure that no one else touches the supplements and he personally feeds the baby.
By last month, Daddy was 18 pounds and had grown to 28.5 inches long. This is a very fast turnaround compared to what we have seen with most children.
The mum and dad are very quiet people, but they express a lot of joy for what is happening.
"Those who saw Daddy before joining the program cannot believe that he is still alive and on the road to recovery," his grandmother said. "We are very grateful. Daddy got a new lease on life. May you, P4P, continue with the same spirit of saving lives and may God bless you so much."
Health Committee Report
By Angie Smith
Last year when the health team was in Kopanga, they met tiny twins Eunice and Tabitha. The children were extremely malnourished and unhealthy and were immediately enrolled in the Power of Milk program and started on a diet of PlumpyNut™ (a fortified peanut butter supplement packed with calories). Despite these efforts, they did not gain weight.
The health team was very concerned for them and decided a home visit was in order. Meeting the parents revealed that they were not able to take care of the twins because of possible mental health issues, so the decision was made to remove the children from the home and place them in an orphanage.
Once on a regular feeding schedule, they began to gain weight and their health improved dramatically. After more than nine months in the POM program, they graduated early this year. Other than the umbilical hernia that Eunice has, they are doing well.
The Health Committee is going to provide funding to attempt a non-invasive procedure to minimize the hernia. If that does not work, we then we will pursue a laparoscopic surgical repair through the nonprofit organization Kenya Relief. These surgeries aren't usually performed until about age four to reduce potential complications from anesthesia, so we have time to watch and wait in case it improves on its own.
On a recent trip, the health team conducted training for the clinic workers, and it seems to be having a positive impact. That training included hand washing and other basic hygiene practices (including the purchase of a hand washing station) and a more thorough examination of the children (including getting them completely undressed to weigh, measure, and assess skin, etc.). They are reporting significantly less illness among patients now.
The Health Committee is also busy on other fronts as well and is now providing an anti-parasitic to the children in the POM program on a regular basis. Nereah has made progress partnering with the Ministry of Health, something that has been a huge challenge for a long time.

A Monster Saves Babies
A heartfelt thank you goes out to everyone who supported the June 5th Civic Theater Event, Young Frankenstein. Thanks to you, we raised $15,000, enabling P4P to continue partnering with 26 villages in Kenya, bringing health to malnourished infants, clean water, education and economic development. We know there are many worthy causes that you can choose to support, but you chose to help sustain P4P's programs. Asante Sana!

Special thanks to the Civic Theatre Committee, led by Barbara Morkill. Hours of preparation and planning made this event spectacular. Volunteers sold tickets, procured sensational packages and hosted the event. Frantic raffle competition and a hilarious play made for a fun evening.

Linda Hagen Miller and Chrisdee Imthurn spoke to the audience about traveling to Kopanga as part of a P4P team and thanked them for their support that evening. Chrisdee shared a testimonial from their trip that bears repeating.
"P4P's education program has enabled 24 students to stay in school through high school scholarships. One of the most memorable days I experienced in Kenya was attending the scholarship awards ceremony where students received their award," Chrisdee said. High school is not free in Kenya and these young people were shy but proud to receive help from P4P to stay in school. One of the principals who spoke during the ceremony said something that will always stay with me. He said, "Many people walk through your life, leaving footprints in sand. P4P walks through our lives leaving footprints in cement".

We are grateful to the following businesses and individuals for their in-kind raffle donations: Total Wine & More, Sandpoint Festival, La Quinta Hotel Sandpoint, Spokane Indians Baseball, Bone Fish Grill, Village Cinema, AMC Movie Theaters, Patti Krafft, Barbara Morkill, Eileen and Cliff Dugger, Numerica, Kari Holman, Lee Fowler and Dia Maurer.
We also give thanks to the sponsors for underwriting the cost of Young Frankenstein. Their generous gifts made it possible for P4P to use nearly 100% of the benefit proceeds on programs in Kenya. You make a world of difference a world away!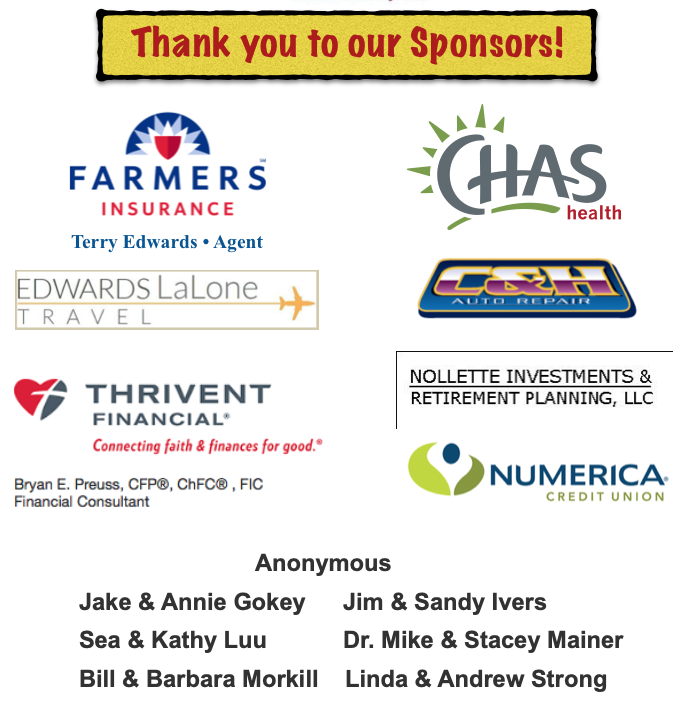 Small-Town Girl Makes Big Impact on Lives in Kenya
By Renée Sande
Born in small town called Berlin, Wisconsin, Mary Sobralske had wanderlust.
"I had this inclination to explore our great, vast country," said Mary.
"I lived in a lot of places," she added. "Now, I make about three international trips per year, many of those with my two sisters."
Graduating from the University of Wisconsin-Oshkosh with a bachelor's and master's in nursing, Mary then received her PhD in educational leadership from Gonzaga University.
Luckily for P4P, Mary's passion for health and travel led her to join a P4P service team and travel to Kopanga in 2016. She is returning as trip leader for our service team traveling to Kopanga September 12-22, 2019.
"I appreciate P4P as a secular organization focused on health. It has a deep connection to the Kopanga community and is respected and appreciated by the people," said Mary.
On Mary's Kenya trip, she met a woman with a vision that captured her heart.
"She had a dream to start a school for deaf children because there were no such schools. I was so taken by her dream that we decided to open a school in 2016. The school is named for my 94-year-old mother, who was a teacher at a one-room school in the 1940s and 1950s. My grandmother still plays cards and sings in a senior choir in my hometown."
Mary now works as a family nurse practitioner at Spokane Community College Student Health Center, and in her free time loves to downhill ski, golf, white water raft, hike, camp and visit national parks, as well as be "the fun auntie to my many nieces and nephews."
"I also read a lot. Historical biographies, history and non-fiction, which for me, are far more interesting and engaging than most fiction—you can't make this stuff up!"
Save Big on Into Africa Auction Tickets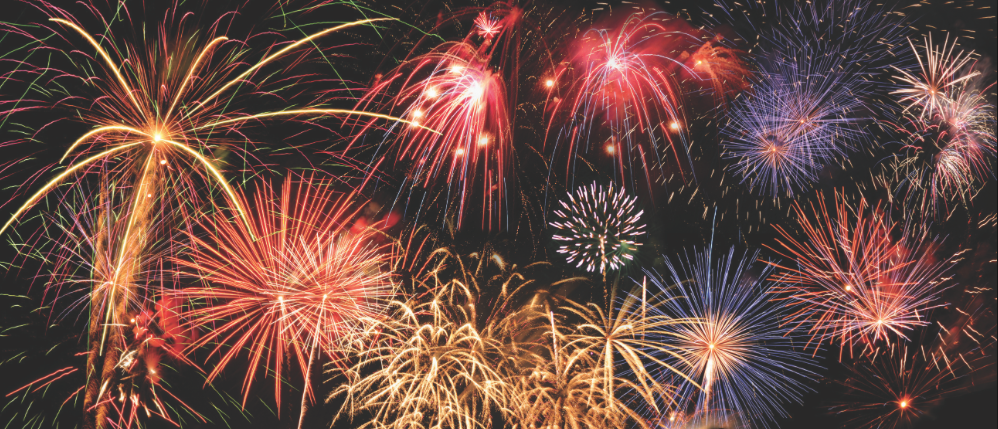 Want to get in on some big savings? The best time to buy your tickets for Into Africa Auction is coming up. Sale prices are $440 for a table of eight (a $110 savings!) or $55 per ticket (a savings of $20!). This offer is good July 2 through July 8 ONLY so don't delay.
Into Africa Auction and Dinner will once again feature spectacular, original African carvings, masks, textiles and jewelry. We'll also be auctioning a year's worth of dinners at area restaurants, hotel packages, a mimosa and painting party and themed baskets (Bavarian, Doggie, wine, Africa). And way, way more.
Hope to see you at Into Africa, November 2, 5:30 pm at the Mirabeau Park Hotel in the Spokane Valley.
Click below to order on P4P's website using PayPal, a secure payment system. (Sale begins July 2nd.) Or send a check to Partnering for Progress, P O Box 28191, Spokane, WA 99228. Checks must be postmarked by July 8. If you would like to purchase by credit card or have questions, call 509-720-8408. See you in November.
Raining Money & $100 Strikeout Night
P4P's Group Night @ Spokane Indians Baseball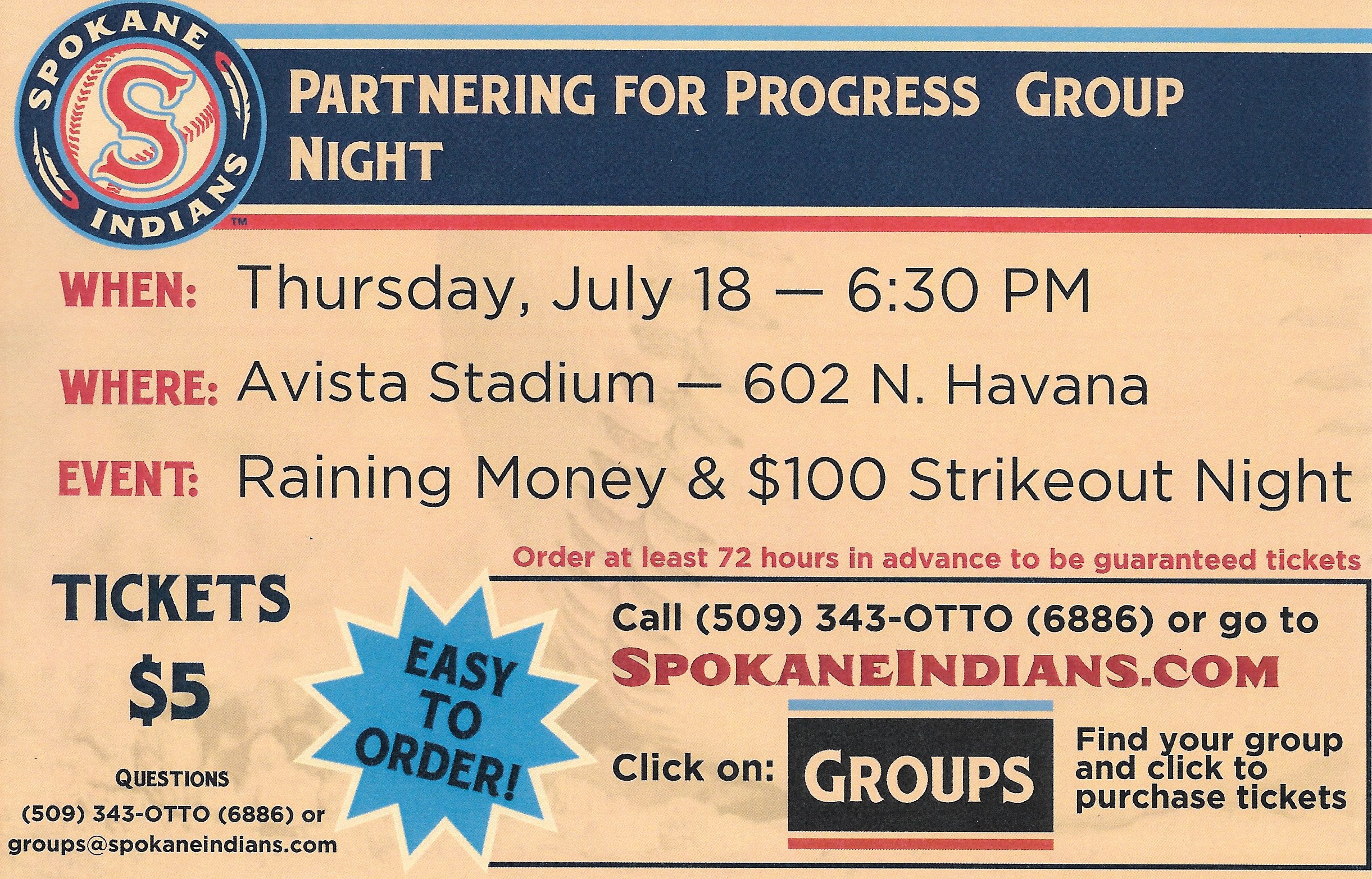 Please join us for an exciting night of baseball at the Spokane Indians Avista Stadium. Tickets are only $5 and available from SpokaneIndians.com. Click below to purchase online or call (509) 343-6886. We hope to see you and your family for a fun night at the ballpark.
Thank You to our Donors December 2018 - May 2019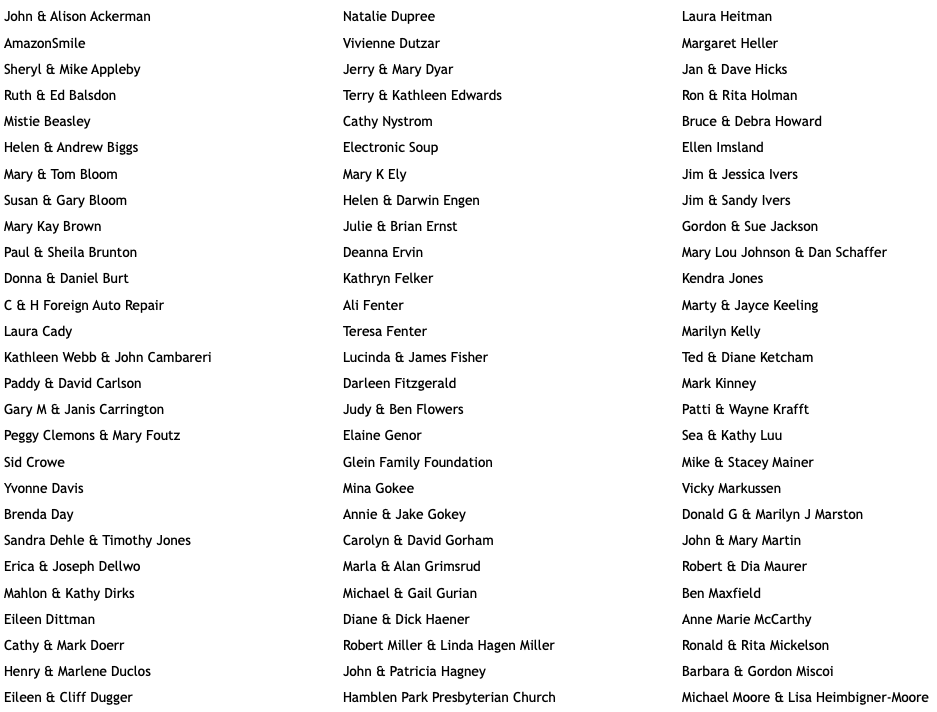 Contact Us
Partnering for Progress
P.O. Box 28191
Spokane, Washington 99228
(509)720-8408
info@partneringforprogress.org