What's in our December 2019 issue: "Volunesia" Daddy Okuth's Story; Meet P4P Volunteer Melissa Sauther; Trip Report September 2019; Amazonsmile; Thank You Donors June - November 2019; Happy Holidays!
The final measure of your life won't be how well you live - but how well others live because of you. ~ Bill Gates
Jambo P4P Friends and Supporters,
"Volunesia" - the moment you forget you're volunteering to help change lives, because it's changing yours.
Thanks to YOU, our donors and volunteers, we are helping the people of Kopanga, Kenya, live healthier, fuller lives. That's the kind of well-being Bill Gates had in mind.
We would like to share a story with you. Eighteen-month-old Daddy Okuth was so malnourished that he weighed half what a toddler should weigh and was five inches shorter than he should have been. Daddy could barely eat and was surviving on fluids fed to him by a spoon or a syringe. His prospects were bleak.
That was then. Now, following a high-nutrition diet provided by P4P's Power of Milk program, Daddy has put on 10 pounds and grown an inch and a half.
"This is a very fast turnaround compared to what we have seen with most children," says Nereah Obura, P4P's program coordinator in Kenya.
Not all P4P's stories are this dramatic, but each one demonstrates how our programs in health, education, economic development and water/sanitation are helping people in the 26 villages in the Kopanga area. Examples include:
A $300 grant enabling a group of women to start a small business

A new rainwater catchment tank that provides clean water for a school

29 scholarships that will enable teenagers to finish high school or move on to college
Your ongoing support of P4P will be critical when another "Daddy Okuth" enters our Power of Milk program, when we distribute the next round of grants, erect the next water tank, or pay next year's scholarships.
P4P Volunteer Shares Her Good Fortune with Others
By Renée Sande
Melissa Sauther has a hard time saying no to certain people. One of those people is P4P's executive director, Dia Maurer.
Melissa and Dia worked together at General Dynamics Itronix many years ago, and the two have kept in touch. A few years ago, when Dia asked Melissa if she'd like to attend Into Africa, Melissa said yes, but on one condition.
"I told her I would only come if I could assist in some way. So, I started helping with the silent auction closing. I've done that for the last five years or so," said Melissa.
This year, however, she took on the leadership role and became Silent Auction Lead. This put her in charge of overseeing over 75 procured items, meeting with Mirabeau Hotel staff regarding room layout and details, training volunteers and handling set-up of the items (with the assistance of those volunteers).
"Volunteering with P4P makes me feel that I am doing something to help make the world a better place and is a reminder to me that we are not all born with the same advantages. Plus, it doesn't hurt that the P4P team is full of wonderful, fun and inspirational people."
Born in Billings, Montana, Melissa's family moved to Spokane when she was in third grade. She now works in sales for Honeywell. In her free time, Melissa enjoys the theatre, going to movies, comedy shows, cooking, spending time with family and friends, and watching her nieces' and nephews' sporting events.
She's thankful for her life and thankful to P4P for helping her to share her blessings with those who need it most.
"I appreciate P4P's dedication and commitment to bring things that I take for granted to people in need…simple things like water, food, medical care and education that are so easily obtained in the corner of the world where we live."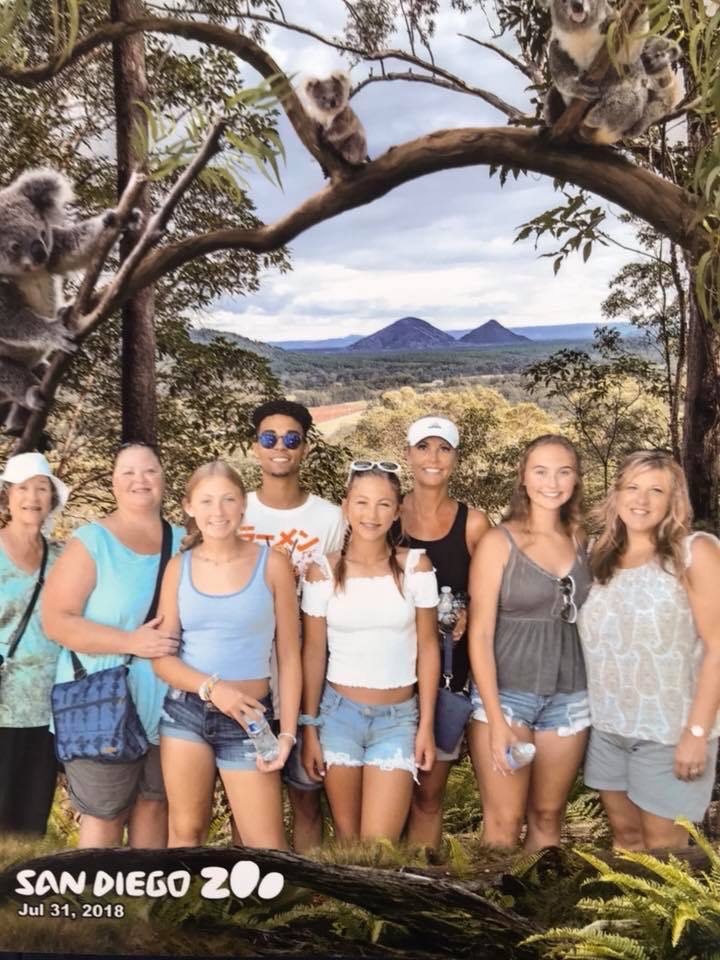 Trip Report, September 13-21, 2019
These journal entries by Mary Sobralske, group leader, on the September P4P trip, summarize typical accomplishments and challenges encountered by P4P volunteers who travel to Kenya. For a more detailed day-to-day account, visit our Trip Blog on P4P's website.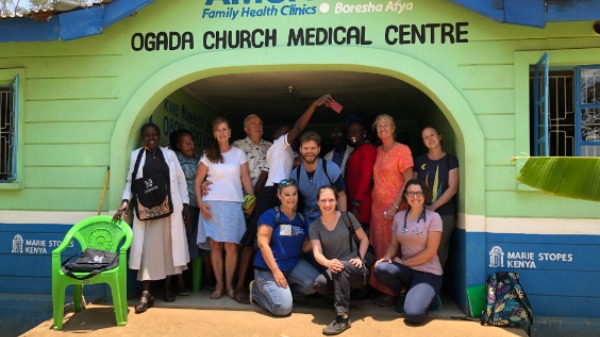 September 13, 2019 Volunteers, Chuck Morrison, MD; Lynn Morrison, pharmacy tech; Brandon Robinson, MD; Gianna Lochetti, MD; David Bucholz, PA; Angie Smith, Courtney Boles, Sami Wood, CMT; Mary Sobralske ARNP/PhD, arrived in Nairobi.
September 14, Saturday Free day for the group so the team toured Nairobi. Places visited included: Elephant Orphanage, Giraffe Center, lunch at Karen Blixen Garden, and Nairobi National Museum.
September 15, Sunday A 10 hour drive on roads being repaired (major re-do for miles) and in a rain storm. At last we arrived at Maranatha Retreat Center that evening. Esther and the kitchen staff then started to make dinner. We settled into our accommodations.
September 16, Monday Robert Ogada, Clinic Director, welcomed volunteers and hosted an orientation and introductory meeting with his staff.
Providers saw 53 patients today. A variety of unusual and common ailments were seen and treated. We all worked very hard. We had five providers seeing patients: Chuck, Brandon, Gianna and Mary. David worked in the afternoon. Lynn, a pharmacy tech, worked with the clinic pharmacist. This was a great help.
David, Sami and Courtney went to two high schools with science teacher Victorine to teach water analysis and testing. Students used UV light to look for coliform bacteria in water. Two students found E. coli in the samples they brought from home.
Courtney, Sami and Days for Girls (DFG) representative Annetta delivered kits to the Boya Primary School and taught feminine reproduction and hygiene. The volunteers enjoyed working with girls.
Angie and Nereah traveled to Migori to meet with LimAfrica, an organization that helps communities start poultry businesses. This potential project looks promising for the area. Gianna and Lynn oversaw creating a daily Facebook blog post.
September 17. Nereah advised that the Ministry of Health gives Kenyans a patient record book which they take to their doctor visits for recording. The team decided to include medications in the patient books.
Mobile clinic was held at the Manyera Church. The church was sizable, however, there was no electricity, so we set up under the three windows. We discovered the need to bring more of our own diagnostic equipment (stethoscopes, otoscopes, thermometers, blood pressure cuffs, penlight or head lights, an adult scale). A busy day and we saw 135 patients at the mobile clinic and 43 patients in Ogada Clinic. Four translators assisted during the day.
September 18. Mary, Courtney and Sami went to a pharmacy in Migori to purchase 40 bottles of benzyl benzoate for scabies treatment. Angie and Nereah met with the Sub County Medical Officer for Health and the Sub County Nutritionist. Providers saw 145 patients at the Ogada Clinic.
Brandon taught basic business bookkeeping to Maendeleo Pamoja group officers and farmers who have received P4P seed and fertilizer. He gave them much-appreciated ledgers and calculators. Brandon enjoyed this opportunity.
We had a delicious lunch at Faith's house (clinic manager Robert's wife) and later visited the local market for cultural immersion and a little shopping.
Mary, Courtney, Sami, and Nereah visited the Lorena School for Deaf Children. Courtney and Sami taught the children how to analyze drinking water. Mary examined the children and Sami and Courtney applied enamel varnish to their teeth. The children are healthy, happy and learning sign language.
September 19. Power of Milk (POM) day at Ogada Clinic. Providers examined 31 infants.
Angie reported that nutritional supplement supplies are being quickly depleted because too much is given to infants who are not currently enrolled in POM. It would be more efficient and less expensive to make the supplements locally if safety requirements can be met.
Courtney and Sami taught health education. Providers treated 92 patients.
Lynn, Charles, and Courtney visited a bee farmer's operation. The farmer sells the honey and honeycombs for wax at the Kopanga market but says it is not very profitable. Bees produce more honey and wax in the wet season than in the dry season.
September 20. We treated 63 patients in the morning then departed for the Ministry of Education Award Ceremony to honor high school students who earned academic success.
Courtney and Sami conducted health education sessions. Chuck conferred with Robert about implementing nasogastric feeding for undernourished infants. Angie and Gianna made a second visit to the orphanage to treat scabies.
The P4P team treated 535 patients this week. Volunteers worked very hard and were enthusiastic about the work performed and the people they met and were glad they had come on the trip.
September 21. The team departed for safari or travels to other countries, before heading back to the States.
SMILE, Shop and Donate to P4P
The holi-daze (we spelled it that way on purpose) are right around the corner and we'll bet you have last minute shopping to do. If you buy online, you can support P4P's programs by shopping for presents, holiday decorations and lots of other fun things on Amazon Smile.
How? Go to http://smile.amazon.com and register first. Then whenever you make a purchase, log onto to smile.amazon.com (NOT Amazon.com) and .5% of your purchase will be donated to P4P. Easy, right? Now, smile and enjoy the holidays.

Thank You to our Donors June - November 2019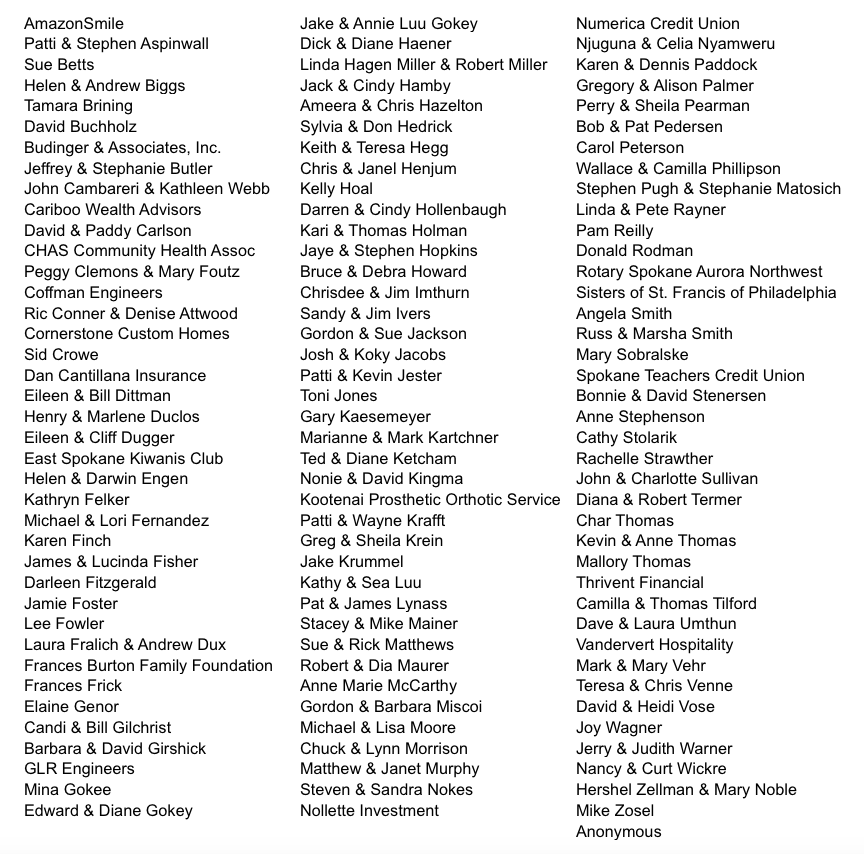 Click to donate via PayPal. Send checks to Partnering for Progress PO Box 28191 Spokane, WA 99228 or call (509)720-8408 for donations by credit card. Thank you!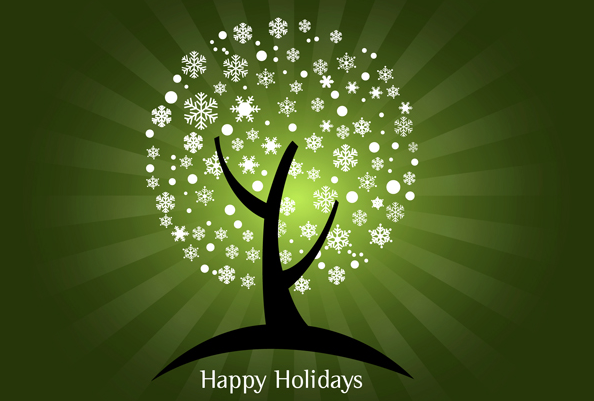 Wishing all our Partnering for Progress supporters, board, volunteers, and staff safe and joyous holidays!
Contact Us
Partnering for Progress
P.O. Box 28191
Spokane, Washington 99228
(509)720-8408
info@partneringforprogress.org