What's in our May 2018 issue: Everyone Needs Safe Water ~ Let's Get Crafty & Drafty ~ Meet Renée Sande ~ More Volunteers Needed for the November Service Trip ~ P4P's Gordon Jackson in the News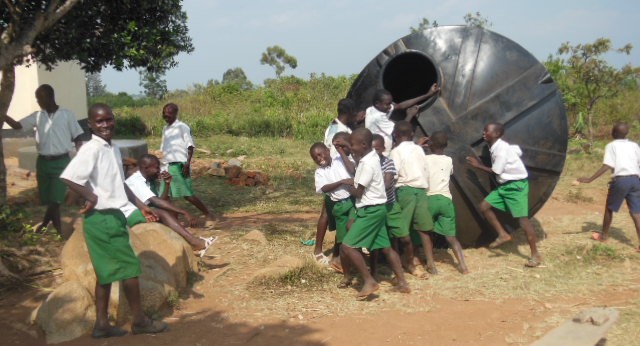 Notes From the Field by Nereah Obura, P4P Program Coordinator
Dear Friend,
The Lwala Secondary School has a population of more than 100 students and their water supply is seriously inadequate. Boys and girls are forced to walk over a mile, about 45 minutes each way, to the nearest borehole to fetch water for drinking and preparing school lunches. This borehole is shared with the community and at times students must queue at the borehole, prolonging the time taken out of school.
P4P partners with schools to address this situation in draught stricken areas in Kopanga/Giribe. The school provides roof gutters and constructs a concrete base. P4P purchases and transports rainwater catchment tanks which hold up to 10,000 liters (approximately 2,600 gallons) of rainwater. Two rainy seasons each year fill the tanks with safe water, which lasts for several months.
To date, P4P has installed eight of these catchment tanks supplying over 1,500 students with safe drinking water.
Let's Get Crafty and Drafty
It's a FUNraiser for Power of Milk
Join us for arts, crafts, locally brewed drafts and uptown music and help raise funds for Power of Milk. We'll have DIY tables where you can learn to make paper flowers, specialty cards, art prints, mobiles, buttons and more. Admission is free, beer is on you and craft activities are just $2 a ticket (or $10 for 6). Music by Funky Unkle (https://www.facebook.com/FunkyUnkleMusic/) and BG3+ (http://www.brookgannon.com), beer by River City Brewing.
Our goal is to raise $3,000 for P4P's Power of Milk program which treats malnourished infants in rural Kenya, and YOU can help.
See you June 23 from 4-8 PM at River City Brewing located at 121 S Cedar St. Spokane, WA 99201.
Power of Milk Saves Abner's Life...Abner Opiyo Thomas is the second child born in a family of three. Abner was enrolled in the Power of Milk nutrition program at 12 months old, weighing about 6kg (13.5 lbs.). He was stunted and had an extended belly. Before he was enrolled, he had frequent attacks of diarrhea and malaria.
His mother, Theopista said, "When Abner was enrolled in the Power of Milk program, within no time he was able to walk and he would gain weight every week thanks to the supplements and the food portions we got." His father, Thomas, could remember two things he learned during the health education sessions: proper nutrition and hygiene. They are so happy that this program existed, "Because of this program, we're now able to better take care of our children and Hilder (the girl who follows Abner) has never experienced what we did with Abner."
To date POM program has saved seventy-six babies.
Meet Renée Sande
Some People Just Hit the Ground Running
Within months of reading a P4P post on Volunteer Spokane, Renée Sande joined our Communications Committee and newsletter production team, signed up to sell raffle tickets at the annual Civic Theatre event plus the upcoming Art, Crafts & Drafts, and joined the Board of Directors.
Multi-tasking comes naturally to the Greenbluff native who grew up in a busy family which she describes as "the Brady Bunch of the Pacific Northwest, but even bigger."
"I have four older sisters and five older brothers, a mix both my mom and dad had before they got married, and then they had me." We didn't have apple orchards or pumpkin patches, we were the family with the pool! My best memories are swimming from sun-up to sun-down with my family then sleeping outside under the stars."
Renée graduated from Eastern Washington University with a bachelor's degree in mass and organizational communications and a minor in journalism. She's been a freelance writer for the past 12 years, a job which she calls "A gift like no other, allowing me to raise my two kids as a stay-at-home mom." As Kayln, now 16, and Espen, now 13, reach their teen years, Renée has a little more free time and luckily for P4P, she's decided to devote some of it to our programs.
Renée contributes to the Spokesman Review, various area magazines and has been a copywriter for numerous businesses. She recently joined Greystar Management as a leasing professional.
"I love the dedication P4P volunteers have for helping the people of the Kopanga region," Renée says, "and I appreciate the comprehensive scope of services P4P provides. I haven't been to Kenya yet – it's not a question of if but when."
Outside volunteering with P4P, Renée loves to love to run, write, read, get on the water, travel and hang out with her kids and big family. She's also an old fashioned bibliophile. "I have a big affinity for books. I almost like the feel, the look, the idea of books more than I like to read!"
"I know P4P is often asked why we should help a country half-way across the world when we have so many local neighbors that need help," Renée says. "My hope is that we can help them see that lending a hand both near and far is so important--the Kopanga region doesn't have the support of kind-hearted neighbors like Spokane does, and if we don't help, who will?"
More Volunteers Needed for the November Service Trip
By Renée Sande, Communications Committee
Come November 9, another mighty group of P4P champions will make their way to Africa to spend a week affecting great change in the Kopanga region. Trip co-leaders Gabriella Bulman and Sandy Ivers report that the team is coming together but they need additional volunteers including dental and medical providers, water and economic development specialists and early childhood educators.
With the overarching goal of creating a sustainable economic model to feed the P4P programs established over the past decade, we are looking for diverse skill-sets within our traveling group. These are the areas of expertise in need and the goals for each:
Medical

Provide general medical care and expand feminine hygiene program Days for Girls

Dental

Provide dental care and distribute personal dental supplies

Early childhood education

Help develop curriculum following Kenyan government education guidelines
Train 10-15 Kenyan pre-K/early childhood educators in math-focused classroom strategies

Leadership

Teach Kenyan girls and women life skills and assertiveness training
Create lesson plans specifically for Kenyan boys

Water experts

Inspect water sources, investigate future projects and provide safe drinking water education

Sustainable economic development

Research opportunities to create a sustainable business model in Kopanga
Determine possible local business partnerships
P4P's Gordon Jackson in the News
The Fig Tree, a Spokane publication dedicated to writing stories about people who put their faith into action, recently published an in depth article on P4P volunteer Gordon Jackson.
You know Gordon as an energetic, thoughtful P4P volunteer who serves on committees, is a member of the Board of Directors, led two Kenya trips and someone who's willing to step in wherever and whenever P4P needs his talents. But you might not know that Gordon:
Retired in 2015 from a 32-year career as a journalism professor at Whitworth University
Has published a total of 14 books including two books last year, Be Thou My Vision: Light, Sight and the Christian Faith and a novel, The Church That Used to Be St. Elmos
Is originally from South Africa and has taken six groups of students to his homeland on study programs
Volunteered as interim principal at a K-12 English language school in Puebla, Mexico
Is married to Sue Jackson, who worked with the South Africa Council of Churches and Archbishop Desmond Tutu. She recently retired from Whitworth University, where she worked with international students and coordinated study abroad programs
Along with Sue, is active in ministries at Covenant United Methodist Church and volunteers at the Vanessa Behan Crisis Nursery
Compiled an e-book of quotations titled Assuring Alexis: 306 Quotes of Encouragement and Hope for Withstanding the Trump Era. The number 306 refers to how many electoral votes Trump won
Strongly believes in the importance of a free press, citing French philosopher Albert Camus, "A free press can be either good or bad, but without freedom it can't be anything but bad."
Contact Us

Partnering for Progress
P.O. Box 28191
Spokane, Washington 99228
(509)720-8408
info@partneringforprogress.org