What's in our June 2018 issue: Kinda Magongo Women Group; 'Eye to the' Future Economic Development Report; Kopanga Benefit Results; Play Ball ~ P4P Group Night with Spokane Indians Baseball Team; Save the Date for P4P's 11th Into Africa Auction; Northwood Middle School Partners for Project; AmazonSmile; and Thank You P4P Donors
Economic Development Committee Report Submitted by Traci Anderson, Committee Chair
Dear P4P Friend,
With an eye to the future, Partnering for Progress' Board of Directors is embarking on a plan to work with the community in Kopanga/Giribe to develop an income-generating community business. The goal is to help the villagers start a sustainable business that will create jobs and profits to fund the health, water, education and economic development programs that are currently supported by P4P.
The Board asked the Economic Development Committee to develop a plan and timeline to guide us toward these goals. Our recommendations:
The first step is forming an advisory council made up of Kopanga/Giribe community members who will meet monthly for six months to determine the goods and services gaps in the region.
The second step is hiring a consultant who will spend six months living and working in Kopanga/Giribe to facilitate the identification of the best income-generating community business. The consultant will train students to conduct a survey of 100 households to determine interests, needs and possible business ventures. The consultant will assist in the development of the suggested business ideas and perform a market analysis.
Notes From the Field
by Nereah Obura, P4P Program Coordinator
The Kinda Magongo Women Group appears to be well on its way to creating sustainaility. In 2014, fifteen women created a cooperative venture making bricks and buying milk for resale. The group has now grown to an active membership of 30.
Last year, the Kinda Magongo Women Group applied for a grant from P4P to help boost their milk business. One of the group's members crosses the border to Tanzania to buy milk which is then sold in Migori and Kopanga. The grant they received from P4P enabled them to increase their purchasing power from an initial 10 liters (about 2.5 gallons) of milk to a current daily purchase of 40 liters (10.5 gallons).
As a way of giving back to the community and to thank P4P for the grant, last month the Kinda Magongo Women Group donated 10 liters of milk to P4P's Power of Milk program.
The women's next goal is to buy dairy cows and expand the milk business. We have every confidence their hard work and dedication will pay off.
Celebrating the Power of Community with Art, Crafts, & Drafts
Community can be a powerful tool toward creating a better, brighter future. P4P's second Kopanga Benefit Concert on Saturday, June 23rd not only brought communities together, but also celebrated everything that we have accomplished and everything that lies ahead. Amazing things can happen when we work together.
Your generosity saves infant lives and because you joined P4P at River City Brewing for "Art, Crafts & Drafts" you helped us raise $1,500 for the Power of Milk nutrition program which treats malnourished infants in rural Kenya.
Supporters enjoyed a draft or two, enjoyed lively sounds by Brook Gannon Trio (BG3+) and Funky Unkle, and tried their hand at DIY crafts! Creativity flowed at the all-ages pop-up art booths, under the guidance of crafting professionals. Imaginations went wild making hand-crafted treasures of mobiles, buttons, cards and paper flowers.
A special thank you to both our crafting professionals AND our amazing sponsors: River City Brewing (who donated 50% of all beer sales) & Thrivent Financial; Table Sponsors Strong Technology & Anonymous; and MAC Daddy's Gourmet Grub (our food truck partner).
It takes a village to make a difference, and a community like ours working together helping P4P make a world of difference, a world away. Asante Sana!
7th Graders Partner for Project Addressing Kenya's Water, Health & Education Crisis
There's a saying, "If you want to go fast, go alone, but if you want to go far, go together."
Those were the words P4P's Kenya Program Coordinator, Seth Okumu, delivered to a seventh grade science class at Northwood Middle School. When Sophia Martire and Madelyn Lewis heard Seth's stories about how P4P collaborates with villagers in Kenya to address his homeland's struggles, Seth's quote reverberated with the girls.
Okumu spoke about how collaboration was the key to addressing the interrelated water, health and education needs of the Kopanga region of Kenya. Without clean drinking water, Kenyans' health is greatly affected and without good health, their ability to learn is hindered.
When it came time for the Northwood Middle School students to start their science projects aimed at providing solutions to Kenya's needs, the girls were, at first, working separately. Lewis focused on water filtration and Martire on aquaponics, a process of growing plants in water where fish waste provides needed nutrients, plants clean the water and food is recycled back to the fish.
After Okumu's presentation, they realized this spirit of collaboration could provide for a more comprehensive solution. "We looked at opening the aquaponics system so instead of recycling the water back to the fish after it's been cleaned, it would be collected and further filtered so Kenyans could benefit from the food grown, as well as a clean source of water to drink," said Martire.
Thanks to Wayne Kraft and Sandy Ivers of P4P, with whom they consulted, Martire and Lewis were able to determine if their ideas would be feasible.
"Our plan was to put a net over the water to which these plants could vine over. You could move the net if you needed to harvest the food or feed the fish," said Martire. "Plants that do well are tomatoes, peppers and strawberries, among others."
For now, Martire and Lewis are happy that their project has earned an "almost-A." Martire says she may revisit the idea down the road to make the project cost effective. "It definitely needs some more research but I wouldn't mind as science has always interested me; I think it's a cool career choice."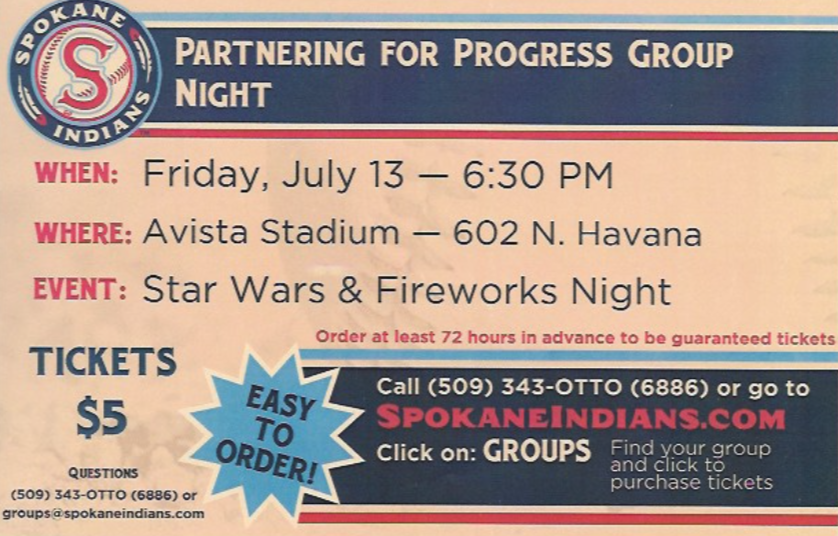 Play Ball!
It's summer (finally!) and time to root, root, root for the home team. What better way to celebrate the season than enjoying an evening watching the Spokane Indians baseball team and catching a fireworks display. Join your P4P friends on Friday, July 13, at 6:30 pm at Avista Stadium. Tickets are only $5 per person. Get yours by calling 509-343-6886, go online to SpokaneIndians.com and select GROUPS or click this direct link, http://spokaneindians.tix.milbstore.com/store_contents.cfm?store_id=106&dept_id=1601&product_id=106480, to enjoy a favorite summer pastime with P4P.
Save the Date – Into Africa Auction
P4P's annual fun, friend and fundraiser, the Into Africa Auction and Dinner will be Saturday, October 13, 2018, at the Mirabeau Park Hotel. This year we're excited that Nereah Obura, P4P's project coordinator in Kopanga/Giribe, will be our keynote speaker. In less than a year, Nereah has made a significant impact on our work in Kenya and she is in a unique position to share news of P4P's projects and the moving, heartfelt stories of the people we work with.
Individual tickets are $75 per person or you can purchase a table for 8 for $550. All proceeds from the event benefit our programs in Kenya. Please join us! Go to PartneringforProgress.org or call 509-720-8408 to purchase tickets.

Another way to have FUN and support P4P
Do you shop for gifts, housewares, books, clothes, electronics and more on Amazon? You can support P4P by simply registering on Amazon Smile. Every time you shop from that portal, you will be channeling a donation of 0.5% of your purchase price on eligible items to P4P.
Just three simple steps:
1. Login into your Amazon account; make sure to enter smile.amazon.com in your URL so you will be directed to the correct page when you sign onto Amazon to shop.
2. If you haven't already, designate P4P as your charity of choice which Amazon will remember for all future purchases.
3. Click and buy!
Now wasn't that easy? Fundraising while shopping, with no extra effort. P4P receives the donations approximately 45 days after the end of each calendar quarter – and it can really add up if we all participate. For more information about the program, go to https://smile.amazon.com/gp/chpf/about/.
Contact Us

Partnering for Progress
P.O. Box 28191
Spokane, Washington 99228
(509)720-8408
info@partneringforprogress.org